Calhoun Chiropractic Can Help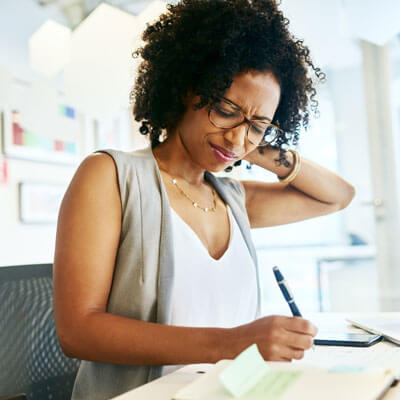 Naturally, chiropractic helps traditional neck and back problems, but chiropractic has also produced wonderful results with a variety of other health problems, such as headaches, migraines, and shoulder pain.
Our North Andover chiropractic office uses techniques that help our patients enjoy the fastest results in the shortest amount of time. As North Andover chiropractors there are certain health conditions we especially enjoy helping. For us, our most rewarding cases involve…
Low Back Pain
Recognizing the source of low back pain can be really tricky. Many times patients will improve with adjustments but need to continue with adjustments to maintain relief. In my North Andover chiropractic office I frequently look for the underlying issues that are causing the stress on the low back that keeps it from improving. Hip tightness or loss of range of motion and hip flexor dominance in posture are two very common sources of problems. I not only address and if possible correct these issues, but will make recommendations for specific mobilizations, stretches and exercises that will get the conditions under control. Many of my back pain patients find that in a relatively short time they are engaging in activities they have previously stopped and are now even doing things like kettlebell swings and have no pain.
Shoulder Pain
Shoulder pain can be very frustrating for people because it never seems to go away. As a sports chiropractor, I have had additional training in upper extremity mechanics and can get to the bottom of what is wrong with your shoulder. In many cases specialized techniques like Graston Technique can be used in conjunction with specialized exercises to stimulate a true resolution of the shoulder pain as well as a correction of the mechanics that caused the problem.
Call our North Andover chiropractic office to make an appointment, so we can help you and your family!
CONTACT US »

Calhoun Chiropractic Can Help | (978) 681-4500