Laser Therapy
Healing has taken a quantum leap forward!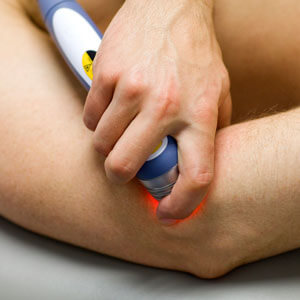 Specific wavelengths of light have been shown to stimulate tissue healing at incredible speed. Tissue repair after injury has been shown to occur at twice the normal rate when exposed to light of specific wavelengths. The Erchonia PL5 low level laser this is the only FDA approved laser for treatment of neck and shoulder pain. Erchonia has led the field in research in Low Level Laser Therapy (LLLT). Apparently there are receptors in our bodies that respond to light therapy and stimulate rapid healing of injuries
Benefits of the Laser
Injured tissues that are stimulated with LLLT demonstrated increased microcirculation, enhanced tissue regeneration, and increased mitochondrial ATP production (cellular energy). This results in decreased pain, increased range of motion, increased strength, and dramatically decreased healing times.
How Does It Work?
How can certain frequencies of light speed up or slow down biological processes? Science has shown that LLLT of the correct wavelength, pulsation frequency and strength (not too much power and not too little) will stimulate healing. Many studies have been performed and the way in which lasers work is still being understood. Studies indicate that LLLT seem to only affect tissues that have some sort of injury or inflammation. From practical application with real patients, the laser has shown great results for:
Wound healing
Inflammation reduction
Pain management
Cell regeneration
Scar tissue reduction and remodeling
While scientists debate the mechanism by which low level laser works and publish their work in the scientific literature, our patients are just delighted that it works!
Maximizing Healing and Performance
LLLT can be used to treat injured tissues directly and also to stimulate improved muscular balance.
Through a series of muscle tests and laser protocols, patients can now achieve a level of muscle balance that was previously not possible. Balance within the muscular system is just one more way to reduce injuries and improve performance.
Professional and Olympic Level Athletes Use Lasers To Improve Performance.
Call Calhoun Chiropractic And Ask How Laser Therapy May Help You!! (978) 681-4500
CONTACT US »

Laser Therapy North Andover, Andover MA | (978) 681-4500